Sunday Breakfast at the Korpela Homestead - Spam, spam, biscuits, eggs and spam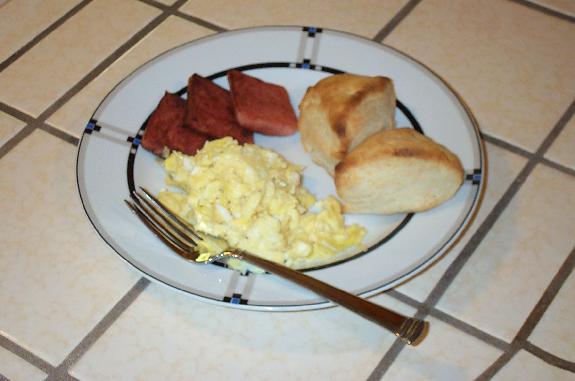 Human Subject
Behavioral Observations: The subject took the tiniest of bites, chewed thoughtfully and gingerly, then swallowed painfully.
Linguistic Response:
Eric: It is somewhat blander than I remember.
Angela: Spam, spam, spam, spam...
Eric: This was served with regularity in our elementary school lunchroom.
Angela: Spam, spam, spam, spam...
Eric: The lunch lady called it "Glazed Ham Luncheon Loaf"
Angela: Spamity spam, wonderful spam!
Eric: For a shelf stable meat product, it is not that bad.
Angela: Lovely spam. Wonderful Spam, spam, spam, spam...
Analysis:
I do not think I can classify this food as "eaten" by my human subject. He sampled less than a quarter of one of the three slices I served him.
It seems that I am discovering some methodological problems with my experiment. I did not start off with clear operational definitions of what constitutes "eaten" and what constitutes "rejected".
Since my human subject was only offered a modest amount of Spam, and then he only nibbled tiny sample pieces of the food, I think I am going to have to classify this one as "rejected".
Eric fed some of his Spam to one of our cats. Here is a picture of White Cat.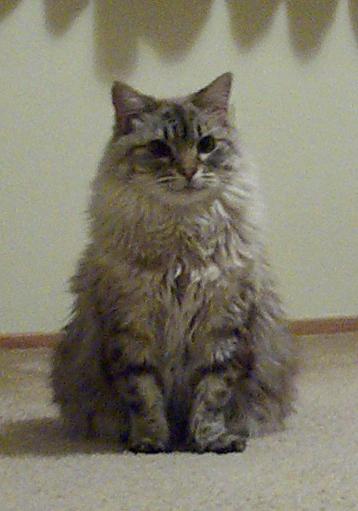 Yes, we know she is not actually a white cat. Anyway, it is no surprise that W.C. ate the Spam. This is the kind of kitty who thinks she can find love at the bottom of a food bowl. You know the type, I am sure.
I diced up the remainder of Eric's rejected Spam and fed it to a feral cat, who pretty much acted like it was the Best Breakfast Ever!!!!!
Raccoon Subjects:
One of Interloper Mama's rejected babies grabbed a piece of Spam almost immediately. The raccoon made off with the Spam and consumed it in the shadowy recesses of our back yard. We could hear the munching, but we could not get a good photo. Something startled the raccoon and he/she left our yard. About an hour later the same raccoon returned. He/she ate the second piece in the dark again.
Here is a picture of the raccoon seizing the third piece of Spam, spam, spam, spam...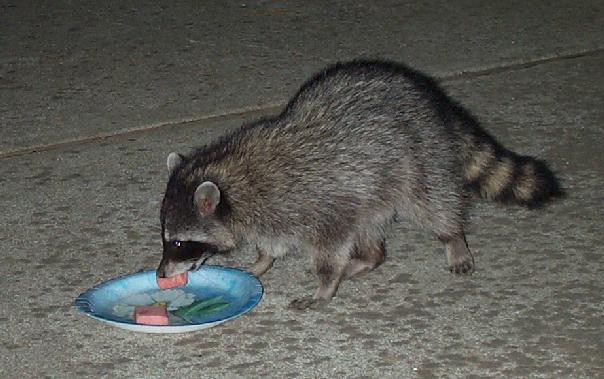 The fourth piece was consumed shortly thereafter.
Score:
Human - 2 rejections, 3 consumptions
Raccoons - 1 rejection, 4 consumtions
Anyone got money riding on the ultimate outcome?
Fondly,
Angela