Ok, so my posts haven't quite been weekly. I'll try to get back on schedule, but time is a precious commodity. One reason this is quite late is that last Tuesday was my wedding anniversary. Angela and I had planned to take a little trip to Santa Cruz on Wednesday through Saturday. Get a little R&R... Eat some seafood...
My main goal before leaving was to get the "common waveform RFI rejection" (mentioned in my last post) working in the beta project before we left. It wasn't as easy as I had anticipated. It turns out that subtracting the common waveform isn't always enough, so I've added a high pass filter to the multibeam splitter. It seems to be working pretty well at reducing the number of overflows due to these glitches, but it is cutting our sensitivity within 50 kHz of 1.42 GHz. Jeff, Matt and Josh have been working on finding the source of the glitches and they are slowly closing in on the possible sources. It's faily certain they are in the instrumentation somewhere rather than an external radio source.
Josh is going to be implementing the high pass filter in the Astropulse client to take care of the problem there.
Anyway, by Tuesday night I hadn't solved the problem. So I cancelled a day of our trip and worked through Wednesday. As you can imagine, Angela was thrilled. It still wasn't working on Wednesday night, but I couldn't cancel another day without fearing for my life. So Thursday and Friday we enjoyed Santa Cruz. Saturday, we headed back to the bay after a stop at the
DigiBarn
(yes, I do have some hobbies). Saturday night we went to a birthday party at Trader Vic's.
Sunday morning, my allergies were killing me, or so I thought. Headed to Palo Alto for
Matt and Janet's
house warming party. By the time we got there I was sure that it wasn't alergies. Hope I didn't pass it along to anyone.
The cold wiped out Monday and Tuesday. I should have stayed home yesterday, but work won't wait forever. Spent much of yesterday assembling the kryten replacement that donated in pieces by Adam and Al and Anonymous and Anonymous and with drives coming from Anonymous. We're calling the new server "bruno" in honor of Giordono Bruno (pictured below) who was burned at the stake for a combination of proclaiming that there was life on other worlds and generally pissing off everyone in authority.
Two of the fiberchannel drives in the array died during the RAID build, so I'm stress testing the rest of the drives and the CPUs over the weekend. Hopefully we'll get it online shortly thereafter.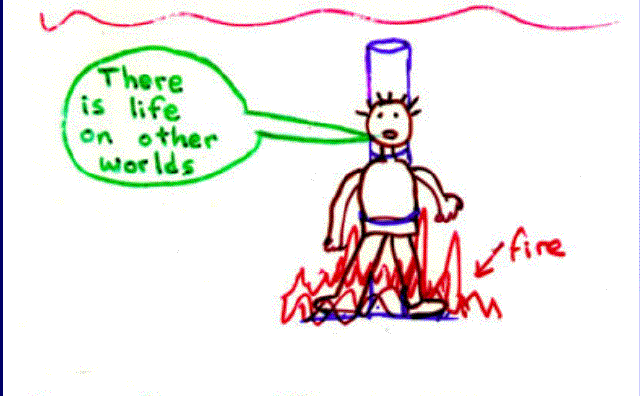 (Picture of Giordono Bruno, Courtesy Dan Werthimer)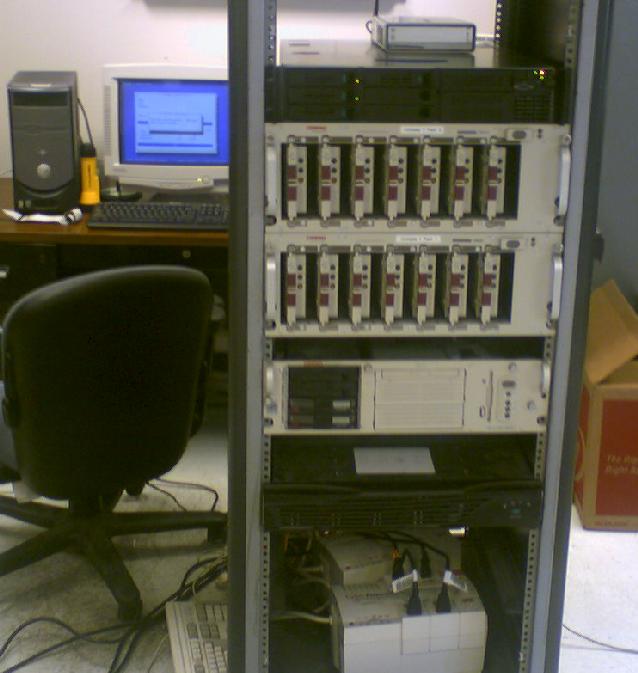 (Crappy Cell phone picture of the server bruno. Bruno is the black box on top, and the fiberchannel array is the block box above the UPS bricks. The stuff in the middle is an old unrelated Compaq Pentium II server.)
---

@SETIEric