I have an R7 250E which used to be used for computing until reboot one day. Now I have a lot of unfinished ATI GPU tasks and nothing I do will make boinc see the ATI GPU again. The Intel and both nVidia GPUs are seen and computing just fine. I've tried uninstalling and reinstalling both boinc (7.6.33 x64) and the AMD drivers (17.2.1) and still nothing. GPU-Z still shows both OpenCL and DirectCompute support. After searching and searching, I'm really stumped...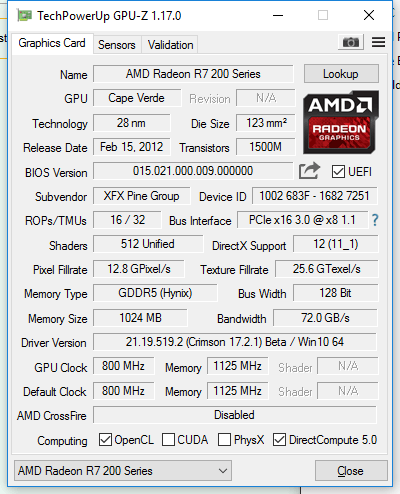 Radeon Software Version - 17.2.1
Radeon Software Edition - Crimson ReLive
Graphics Chipset - AMD Radeon R7 200 Series
Memory Size - 1024 MB
Memory Type - HyperMemory
Core Clock - 800 MHz
Windows Version - Windows 10 (64 bit)
System Memory - 32 GB
CPU Type - Intel(R) Core(TM) i7-3770K CPU @ 3.50GHz
Radeon Settings Version - 2017.0210.908.16431
Driver Packaging Version - 16.60.2011-170210a-311139E-ATI
Provider - Advanced Micro Devices, Inc.
2D Driver Version - 8.1.1.1591
Direct3D® Version - 9.14.10.01249
OpenGL® Version - 6.14.10.13469
OpenCLâ"¢ Version - 21.19.519.2
AMD Mantle Version - 9.1.10.0179
AMD Mantle API Version - 102400
AMD Audio Driver Version - 10.0.1.1
Vulkanâ"¢ Driver Version - 1.4.1
Vulkanâ"¢ API Version - 1.0.37
stdoutdae.old:
10-Jan-2017 22:12:20 [---] cc_config.xml not found - using defaults
10-Jan-2017 22:12:21 [---] Starting BOINC client version 7.6.22 for windows_x86_64
10-Jan-2017 22:12:21 [---] log flags: file_xfer, sched_ops, task
10-Jan-2017 22:12:21 [---] Libraries: libcurl/7.45.0 OpenSSL/1.0.2d zlib/1.2.8
10-Jan-2017 22:12:21 [---] Data directory: C:\ProgramData\BOINC
10-Jan-2017 22:12:21 [---] Running under account reukiodo
10-Jan-2017 22:12:32 [---] CUDA: NVIDIA GPU 0: GeForce GT 220 (driver version 342.01, CUDA version 6.5, compute capability 1.2, 1024MB, 954MB available, 196 GFLOPS peak)
10-Jan-2017 22:12:32 [---] CUDA: NVIDIA GPU 1 (not used): GeForce GT 220 (driver version 342.01, CUDA version 6.5, compute capability 1.2, 512MB, 441MB available, 204 GFLOPS peak)
10-Jan-2017 22:12:32 [---] OpenCL: NVIDIA GPU 0: GeForce GT 220 (driver version 342.01, device version OpenCL 1.0 CUDA, 1024MB, 954MB available, 196 GFLOPS peak)
10-Jan-2017 22:12:32 [---] OpenCL: NVIDIA GPU 1 (ignored by config): GeForce GT 220 (driver version 342.01, device version OpenCL 1.0 CUDA, 512MB, 441MB available, 204 GFLOPS peak)
10-Jan-2017 22:12:32 [---] OpenCL: AMD/ATI GPU 0: Capeverde (driver version 2236.9, device version OpenCL 1.2 AMD-APP (2236.9), 1024MB, 1024MB available, 512 GFLOPS peak)
10-Jan-2017 22:12:32 [---] OpenCL: Intel GPU 0: Intel(R) HD Graphics 4000 (driver version 10.18.10.4425, device version OpenCL 1.2, 1400MB, 1400MB available, 147 GFLOPS peak)
10-Jan-2017 22:12:32 [---] OpenCL CPU: Intel(R) Core(TM) i7-3770K CPU @ 3.50GHz (OpenCL driver vendor: Intel(R) Corporation, driver version 3.0.1.10891, device version OpenCL 1.2 (Build 76427))
10-Jan-2017 22:12:32 [---] OpenCL CPU: Intel(R) Core(TM) i7-3770K CPU @ 3.50GHz (OpenCL driver vendor: Advanced Micro Devices, Inc., driver version 2236.9 (sse2,avx), device version OpenCL 1.2 AMD-APP (2236.9))
10-Jan-2017 22:12:32 [---] Host name: liofem
10-Jan-2017 22:12:32 [---] Processor: 8 GenuineIntel Intel(R) Core(TM) i7-3770K CPU @ 3.50GHz [Family 6 Model 58 Stepping 9]
10-Jan-2017 22:12:32 [---] Processor features: fpu vme de pse tsc msr pae mce cx8 apic sep mtrr pge mca cmov pat pse36 clflush dts acpi mmx fxsr sse sse2 ss htt tm pni ssse3 cx16 sse4_1 sse4_2 popcnt aes f16c rdrandsyscall nx lm avx vmx tm2 pbe fsgsbase smep
10-Jan-2017 22:12:32 [---] OS: Microsoft Windows 10: Professional x64 Edition, (10.00.14393.00)
10-Jan-2017 22:12:32 [---] Memory: 31.90 GB physical, 36.90 GB virtual
10-Jan-2017 22:12:32 [---] Disk: 232.35 GB total, 20.80 GB free
10-Jan-2017 22:12:32 [---] Local time is UTC -8 hours
10-Jan-2017 22:12:32 [---] VirtualBox version: 5.0.12
10-Jan-2017 22:12:32 [---] A new version of BOINC is available. (7.6.33) <a href=http://boinc.berkeley.edu/download.php>Download</a>
10-Jan-2017 22:12:32 [SETI@home] URL http://setiathome.berkeley.edu/; Computer ID 8014667; resource share 100
10-Jan-2017 22:12:32 [---] General prefs: from http://www.worldcommunitygrid.org/ (last modified 21-Feb-2016 00:12:14)
10-Jan-2017 22:12:32 [---] Host location: none
10-Jan-2017 22:12:32 [---] General prefs: using your defaults
10-Jan-2017 22:12:32 [---] Reading preferences override file
10-Jan-2017 22:12:32 [---] Preferences:
10-Jan-2017 22:12:32 [---] max memory usage when active: 16333.57MB
10-Jan-2017 22:12:32 [---] max memory usage when idle: 29400.42MB
10-Jan-2017 22:12:33 [---] max disk usage: 20.82GB
10-Jan-2017 22:12:33 [---] (to change preferences, visit a project web site or select Preferences in the Manager)
10-Jan-2017 22:12:33 Initialization completed
stdoutdae.txt:
06-Feb-2017 00:05:53 [---] Starting BOINC client version 7.6.33 for windows_x86_64
06-Feb-2017 00:05:53 [---] log flags: file_xfer, sched_ops, task
06-Feb-2017 00:05:53 [---] Libraries: libcurl/7.47.1 OpenSSL/1.0.2g zlib/1.2.8
06-Feb-2017 00:05:53 [---] Data directory: C:\ProgramData\BOINC
06-Feb-2017 00:05:53 [---] Running under account reukiodo
06-Feb-2017 00:05:59 [---] CUDA: NVIDIA GPU 0: GeForce GT 220 (driver version 342.01, CUDA version 6.5, compute capability 1.2, 1024MB, 954MB available, 196 GFLOPS peak)
06-Feb-2017 00:05:59 [---] CUDA: NVIDIA GPU 1: GeForce GT 220 (driver version 342.01, CUDA version 6.5, compute capability 1.2, 512MB, 441MB available, 204 GFLOPS peak)
06-Feb-2017 00:05:59 [---] OpenCL: NVIDIA GPU 0: GeForce GT 220 (driver version 342.01, device version OpenCL 1.0 CUDA, 1024MB, 954MB available, 196 GFLOPS peak)
06-Feb-2017 00:05:59 [---] OpenCL: NVIDIA GPU 1: GeForce GT 220 (driver version 342.01, device version OpenCL 1.0 CUDA, 512MB, 441MB available, 204 GFLOPS peak)
06-Feb-2017 00:05:59 [---] OpenCL: Intel GPU 0: Intel(R) HD Graphics 4000 (driver version 10.18.10.4425, device version OpenCL 1.2, 1400MB, 1400MB available, 147 GFLOPS peak)
06-Feb-2017 00:05:59 [---] OpenCL CPU: Intel(R) Core(TM) i7-3770K CPU @ 3.50GHz (OpenCL driver vendor: Intel(R) Corporation, driver version 3.0.1.10891, device version OpenCL 1.2 (Build 76427))
06-Feb-2017 00:05:59 [---] app version refers to missing GPU type ATI
06-Feb-2017 00:05:59 [SETI@home] Application uses missing ATI GPU
06-Feb-2017 00:05:59 [---] app version refers to missing GPU type ATI
06-Feb-2017 00:05:59 [SETI@home] Application uses missing ATI GPU
06-Feb-2017 00:05:59 [---] app version refers to missing GPU type ATI
06-Feb-2017 00:05:59 [SETI@home] Application uses missing ATI GPU
06-Feb-2017 00:05:59 [---] app version refers to missing GPU type ATI
06-Feb-2017 00:05:59 [SETI@home] Application uses missing ATI GPU
06-Feb-2017 00:05:59 [---] app version refers to missing GPU type ATI
06-Feb-2017 00:05:59 [SETI@home] Application uses missing ATI GPU
06-Feb-2017 00:05:59 [---] app version refers to missing GPU type ATI
06-Feb-2017 00:05:59 [SETI@home] Application uses missing ATI GPU
06-Feb-2017 00:05:59 [---] app version refers to missing GPU type ATI
06-Feb-2017 00:05:59 [SETI@home] Application uses missing ATI GPU
06-Feb-2017 00:05:59 [---] app version refers to missing GPU type ATI
06-Feb-2017 00:05:59 [SETI@home] Application uses missing ATI GPU
06-Feb-2017 00:05:59 [---] app version refers to missing GPU type ATI
06-Feb-2017 00:05:59 [SETI@home] Application uses missing ATI GPU
06-Feb-2017 00:05:59 [SETI@home] Missing coprocessor for task blc3_2bit_guppi_57397_MESSIER031_0013.1769.0.23.46.211_0
06-Feb-2017 00:05:59 [SETI@home] Missing coprocessor for task blc3_2bit_guppi_57397_MESSIER031_0010.1740.831.23.46.1_1
06-Feb-2017 00:05:59 [SETI@home] Missing coprocessor for task blc3_2bit_guppi_57397_MESSIER031_0013.1769.0.23.46.164_0
06-Feb-2017 00:05:59 [SETI@home] Missing coprocessor for task 09ja09ac.11339.6616.10.37.157_1
06-Feb-2017 00:05:59 [SETI@home] Missing coprocessor for task 12au09af.30718.18068.3.30.203_0
06-Feb-2017 00:05:59 [SETI@home] Missing coprocessor for task 13ja09ad.25495.72.4.31.44_0
06-Feb-2017 00:05:59 [SETI@home] Missing coprocessor for task 12se09aa.23049.10701.8.35.137_0
06-Feb-2017 00:05:59 [SETI@home] Missing coprocessor for task 12au09af.4050.10706.14.41.51_0
06-Feb-2017 00:05:59 [SETI@home] Missing coprocessor for task 12se09aa.10946.885.9.36.75_0
06-Feb-2017 00:05:59 [SETI@home] Missing coprocessor for task 12au09af.13541.18068.15.42.163_1
06-Feb-2017 00:05:59 [SETI@home] Missing coprocessor for task 13ja09ad.25736.7843.5.32.144_0
06-Feb-2017 00:05:59 [SETI@home] Missing coprocessor for task 18dc09ae.5855.224521.9.36.2_0
06-Feb-2017 00:05:59 [SETI@home] Missing coprocessor for task 18dc09ae.5855.224521.9.36.103_0
06-Feb-2017 00:05:59 [SETI@home] Missing coprocessor for task 18dc09ae.5855.224521.9.36.91_0
06-Feb-2017 00:05:59 [SETI@home] Missing coprocessor for task 18dc09ae.5855.224521.9.36.27_0
06-Feb-2017 00:05:59 [SETI@home] Missing coprocessor for task 18dc09ae.5855.224521.9.36.21_0
06-Feb-2017 00:05:59 [---] Host name: liofem
06-Feb-2017 00:05:59 [---] Processor: 8 GenuineIntel Intel(R) Core(TM) i7-3770K CPU @ 3.50GHz [Family 6 Model 58 Stepping 9]
06-Feb-2017 00:05:59 [---] Processor features: fpu vme de pse tsc msr pae mce cx8 apic sep mtrr pge mca cmov pat pse36 clflush dts acpi mmx fxsr sse sse2 ss htt tm pni ssse3 cx16 sse4_1 sse4_2 popcnt aes f16c rdrandsyscall nx lm avx vmx tm2 pbe fsgsbase smep
06-Feb-2017 00:05:59 [---] OS: Microsoft Windows 10: Professional x64 Edition, (10.00.14393.00)
06-Feb-2017 00:05:59 [---] Memory: 31.90 GB physical, 79.90 GB virtual
06-Feb-2017 00:05:59 [---] Disk: 232.35 GB total, 22.03 GB free
06-Feb-2017 00:05:59 [---] Local time is UTC -8 hours
06-Feb-2017 00:05:59 [---] VirtualBox version: 5.0.18
06-Feb-2017 00:05:59 [---] Config: use all coprocessors
06-Feb-2017 00:05:59 [SETI@home] URL http://setiathome.berkeley.edu/; Computer ID 8014667; resource share 100
06-Feb-2017 00:05:59 [---] General prefs: from http://www.worldcommunitygrid.org/ (last modified 21-Feb-2016 00:12:14)
06-Feb-2017 00:05:59 [---] Host location: none
06-Feb-2017 00:05:59 [---] General prefs: using your defaults
06-Feb-2017 00:05:59 [---] Reading preferences override file
06-Feb-2017 00:05:59 [---] Preferences:
06-Feb-2017 00:05:59 [---] max memory usage when active: 16333.57MB
06-Feb-2017 00:05:59 [---] max memory usage when idle: 29400.42MB
06-Feb-2017 00:06:04 [---] max disk usage: 22.07GB
06-Feb-2017 00:06:04 [---] (to change preferences, visit a project web site or select Preferences in the Manager)
06-Feb-2017 00:06:04 [SETI@home] no project URL in task state file
06-Feb-2017 00:06:04 Initialization completed