Radio transmission has been the way we have searched for alien messages almost since its invention. In the early 1900s, wireless communication pioneers Tesla and Marconi suspected that they could have stumbled upon signals from Martians. In 1960, Frank Drake conducted the first modern search with a radio telescope in Green Bank, West Virginia. Since then, radio SETI has matured with dramatic technological improvement including the advent of detectors covering millions of frequency channels, and more powerful telescopes and computational tools. Lasers were invented decades after radio. When they were, it became natural to wonder whether alien civilizations might use powerful lasers for interstellar communication via light. An initial consideration was whether they could transmit light signals which would be detectable against the background of their sun's light. But by now Earthlings can produce laser pulses that can outshine our Sun. We imagine that ET could do far better.
Modern optical SETI surveys began around the year 2000. Searches by the Harvard SETI group led by Paul Horowitz, and by the University of California (Berkeley and San Diego) groups led by Dan Werthimer and Shelley Wright, have pointed telescopes equipped with "laser detectors" at roughly 10,000 stars to date. However, each individual star was viewed for 5-10 minutes or so. This is the barest beginning of a comprehensive optical search program. (Recalling our Drake Equation exercise last month, you will have had to predict at least tens of millions of communicating planets in our galaxy for this to amount to a search with a high probability of success.)
The next step would be the advent of laser SETI searches capable of continuous observations of much of the sky. This is the aim of the
PANOSETI (Panoramic Optical SETI) project
now in the advanced design stage by a consortium from the University of California, San Diego and Berkeley, Harvard University and the SETI Institute. PANOSETI will detect wavelengths ranging from optical into near-infrared, which suffers from less interstellar absorption. It will build fast-response detectors capable of catching very short pulses of light, positing that ET will use quick optical bursts so that its signals stand out from the noise of its background starlight. The major PANOSETI goal of continuous, wide-sky coverage is a significant advance over past brief glances per star. Quite possibly, a civilization with a program to beam signals to potential watchers in the galaxy would need to beam its super-lasers at defined directions at a time, taking some time to cover the whole sky before repeating its transmission in our direction. We would be likely to miss such a deliberate (or even accidental) transmission if we only watch any given star for ten minutes. "As a team, we want to design a dedicated optical SETI observatory that is capable of continuously monitoring the night sky for a bursting artificial or natural signal" said Shelley Wright, PANOSETI Principle Investigator. "Ultimately, we want to take a picture of the entire observable sky every nanosecond."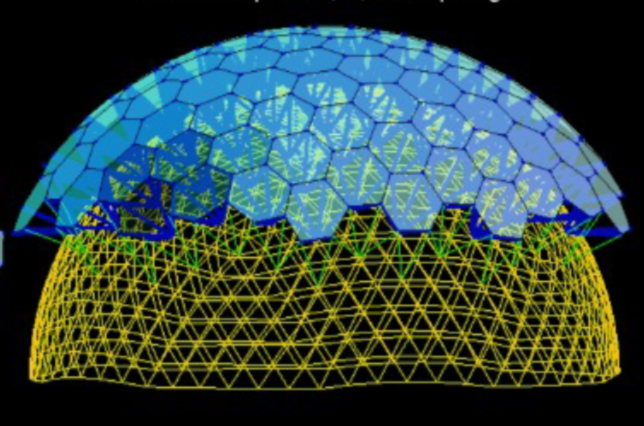 To achieve continuous, wide coverage, PANOSETI will construct geodesic domes with up to 100 hexagonal-shaped modules that each consist of a telescope lens and dedicated detector pointing in a particular direction. When completed, all of the sky roughly 30 degrees above the horizon will be surveyed. Rather than traditional telescope lenses, each aperture will use a 0.5 meter
Fresnel lens
to focus light. This lens design is commonly used in light houses. Fresnel lenses are lighter and less expensive than standard telescope lenses and are adequate for the focusing specificity required here. Basically, one can think of a Fresnel lens as a typical convex lens of similar curvature but divided into a nested array of ring-shaped circles that are collapsed, allowing light to be focused from the full width of a lens that is far thinner than its spherical counterpart (see illustration below of a Fresnel lens and a plano-spherical lens of similar curvature). In each module, the lens is backed up by an array of photon counters that were originally designed for use in medical PET scanners and are capable of resolving light pulses as short as billionths of seconds. PANOSETI will be unique in the ability to record transient events lasting from less than nanoseconds to a few seconds in duration. Longer lasting pulses of light are the target of current telescopic programs searching for supernovae and other astronomical phenomenon, but this ultra-short duration window has not yet been opened in wide-field searches.
Like radio SETI, an over-riding concern is the recognition of alien communication amidst the plethora of unwanted human-made signals. Optical SETI should encounter fewer sources of false alarms than radio searches. Current SETI must sift through a background of "noise" from radio, TV, radar, cell phones and such. But we produce few lights that blink quickly and remain pointed from the direction of a single star. Blinking airplanes and satellites that move across the sky can easily be discerned. PANOSETI designers believe that cosmic rays would be a major source of interference. When a high energy cosmic ray strikes our atmosphere, it triggers a flash of light called Cherenkov radiation. One effective way to distinguish this and other local false alarms is to build pairs of PANOSETI domes separated by several kilometers or more. This also serves to eliminate signals caused by noise within a given detector.
The initial PANOSETI paired domes may be built within the next two years in California, followed by an observatory in the Southern Hemisphere. Each dome will begin to operate with one or a few functional modules, before expanding from the prototype phase to the full array to achieve nearly full-sky coverage. But even with just the first lens and detector element on line, it will see a larger area of the sky than previous light searches done with conventional telescopes.
The development of such optical and infrared SETI instrumentation will benefit astronomy beyond the search for intelligent signals. Transient phenomena have excited astronomers dating back to the observation of variable stars and supernovae hundreds of years ago, to the more recent discoveries of pulsars, gamma ray bursts, fast radio bursts and gravity waves, to name a few. But the ultra-short timescale of PANOSETI optical observation has barely been explored. When astronomers open new windows to observe the universe, new discoveries are made. That is the bonus of building this technology and collecting the data. It is an exciting prospect to supplement radio searching with "all-time, wide sky" searches to look for the strobe lights of a distant message from ET. As Dan Werthimer, one of the project leaders at Berkeley has said: " We can outshine our own sun with the powerful lasers we have today, and we can do that for a billionth of a second or so. If we can do that, the chances are favorable
that other civilizations can do that too."
Update on Oumuamua
In February I posted the article
"Was Our Solar System Probed Last Year?"
While Oumuamua is speeding away from us and better observations won't be possible, interesting comments from you readers and follow-up publications from astronomers have not ceased. Among them, recent papers propose that it is an unusual comet that allows gentle outgassing which would have eluded detection, or that it is a low density aggregate of dust and ice kicked out of a protoplanetary disk. Meanwhile, Siraj and Loeb searched the data from an existing catalog of bright meteors observed in the past 30 years. By back-calculating from their recorded motion and velocity at impact, they determined that one of them, like Oumuamua, was too fast to have originated in our solar system, and was probably another interstellar visitor.
The PANOSETI research and instrumentation program is made possible by Qualcomm co-founder Franklin Antonio, also an active team member contributing significant engineering design. We thank the Bloomfield Family Foundation for supporting SETI research at UC San Diego in the CASS Optical and Infrared Laboratory. Harvard SETI is supported by The Planetary Society. UC Berkeley's SETI efforts involved with PANOSETI are supported by NSF grant 1407804, the Breakthrough Prize Foundation, and the Marilyn and Watson Alberts SETI Chair fund.