I also notice that crunching on the integrated Intel GPU significantly degrades the performance of both the CPU and the dedicated GPU tasks. On a new host that I'm tinkering with, I started by running tasks on all three "processors" (CPU, iGPU, and dGPU). I wasn't satisfied with the processing rates, so, after a few days, on whim, I turned-off the integrated HD 630 GPU, and the overall processing rate of the machine
increased
. We can easily spot which day that happened on the following graph: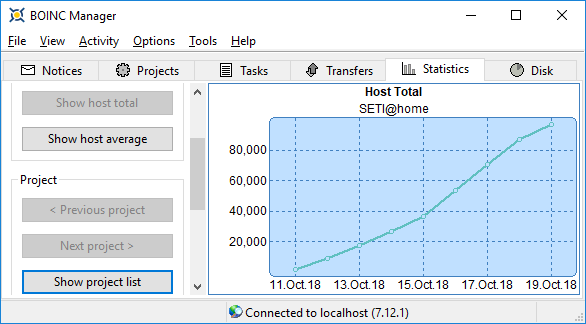 The effectiveness of the integrated GPU really seems dependent on the machine. I use the Intel HD 520 GPUs on a couple of my laptops for a
small net increase
in overall production (despite slower CPU processing), but for the host shown above, the iGPU appears to create enough traffic in the system to harm the performance of the more powerful dedicated GPU, even when running both GPUs by themselves (no CPU tasks).
Alone, the Intel GPUs really shine. The higher-end models have impressive mid-range specs on paper. In fact, the HD 520 in one laptop with a "switchable graphics" feature significantly outperforms the machine's "high-performance" mobile Radeon GPU for SETI crunching. However, as soon as I start tasks on the CPU as well, the processing rates for both the integrated GPU and CPU dramatically decrease.
These observations are not related to power budgets. Though it seems like a common challenge with integrated GPUs, I tuned the voltages on all the hosts described above to eliminate any power-level throttling. The saturation of the CPU cache and memory bandwidth by the integrated GPU, as discussed in other threads, appears to significantly impact system efficiency.
One type of system may experience superior results with the Intel GPUs: Macs with the Intel Iris or Iris Pro/Plus GPUs get an extra level of system cache ("L4", if you will) designed to augment the capabilities of the integrated graphics. The extra cache capacity may help to mitigate the performance problems seen with Intel GPUs in other systems. Unfortunately, I don't own a Mac with one of these GPU models to test this theory.