I was just looking for a hopefully easy way to code systematically going through every permutation.
If I can figure that part out, the rest of it should be pretty easy to figure out which permutation is closest to the target without going over.
I know from my research that a lot of people very strongly advise against--and therefore don't ever show a way to do deploy--going through every possible iteration of an array, because it is easier than you would think to get to
billions
of permutations, which would end up taking anywhere from days to decades to process. But I still want to do that.
I can easily do it if you know how many elements are in your starting array, but I'm trying to find a way to do it when you don't know how many elements there are, so you can't hard-code that many layers of nested loops.
If it helps anything, I'm pretty sure that I probably won't exceed 50 elements at any point, so if I absolutely have to.. I could just go down that path of hard-coding the logic and loops for 50 or less elements.
As far as the Excel idea.. I'm trying to avoid time-consuming by-hand trial-and-error. As stated in the first post, what I'll do is pick two files, drag them to the compilation, it says 7.34 GiB remaining, so I just look for something near that size without going over. Find something that's 6.91, which means there's about 400 MiB free, so I'll look at the size of each of the first two files and see if there's one that's about 400 MiB larger. It's not perfect.. and it kind of works for the most part, but I'd like to find a more efficient way to do this, and it seems like a simpler way to do it would be to have something that can do thousands to millions of iterations per second seems like a great way to go.
However... I think it's probably one of these situations: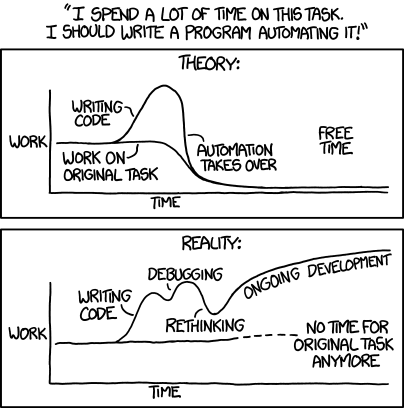 XKCD - 1319
---
Linux laptop:
record uptime: 1511d 20h 19m (ended due to the power brick giving-up)