. . . Lou Reed Marries Laurie Anderson and Performs @ The Redcat w/ Ulrich Krieger and Sarth Calhoun
> Met
Laurie Anderson
in Los Angeles, Ca. during one of her Performances 'Language is a virus' - she's worked w/ a number of Artist Friends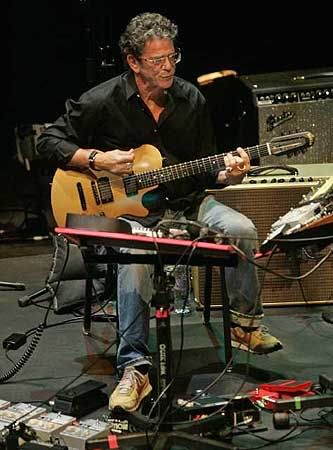 The REDCAT stage looked like a rehearsal room Friday night when Lou Reed, Ulrich Krieger and Sarth Calhoun took the stage.
Effects boxes, pedals and other sound manipulation tools were strewn here and there in cluttered arrangements.
In the center, a row of guitars sat next to a vintage amp. The set-up was practical, not symbolic, but it also carried a message:
"Tonight's performance by the trio, going by the name "Unclassified," would be informal and almost private, an act of creation
first and a show second."
Not all improvisers adopt this casual aura. Some are highly theatrical, other quietly mystical. Still others are aggressive punks.
But for Reed, one of the most venerated leather-jacket-clad pioneers of the rock era, this evening offered something particular --
the chance to put aside his image along with his songbook, and turn inward. He had his collaborators and the intimate room
downstairs in Disney Hall to thank for that.
Reed has been in an arty mood lately. His latest release is the DVD of "Berlin Live at St. Ann's Warehouse," the Julian Schnabel-
directed concert film of his super-heavy 1973 song cycle of that name.
He recently performed with fellow New York boho potentate

John Zorn, and earlier this year he wed his longtime partner, performance art doyenne Laurie Anderson
.
The concert was part of this move away from having to recap "Sweet Jane" for drunken nightclub nostalgics,

and toward a serious legacy . . .
For that, Krieger is an excellent match. The saxophonist, composer and CalArts professor did what Reed had deemed impossible
when he transcribed and arranged the Velvet Underground co-founder's epic 1975 feedback experiment, "Metal Machine Music," for
chamber orchestra in 2002. The two men met at the premiere; Friday's performance and the two that preceded it Thursday were
their first public gigs together.
Like Reed, Krieger is both strong-willed and eclectic. His projects have included the John Cage-focused quartet A Cage of Saxophones;
Text of Light, a group that improvises soundtracks to avant-garde films, and Sus Futuros, a death metal-inspired duo. The German-born
Krieger ranges wide as he seeks the spots where noise and beauty meet, and that makes him an apt helpmeet as Reed cultivates his avant-
garde side. (Calhoun is another fellow traveller, a knob-twisting daredevil who describes himself as an "electronic alchemist,"
and who's currently in Reed's band.)
At REDCAT, the trio played two improvisations in an approximately hourlong set, easing into a distinctive approach. At first
the music's chromatic and dynamic shifts seemed emblematic of minimalism, recalling both Terry Riley and Robert Fripp. Reed
bent notes up high on his guitar fretboard while Krieger found some interesting multiphonic tones deep in his saxophone.
The mood grew grittier after Reed had his roadie fuss with his amp for a while and changed guitars. Calhoun, using a laptop,
a keyboard and a sort of electronic slide instrument called a Haken Continuum Fretboard, added gut-shaking low notes, distortion
and drone to the mix. Krieger responded aggressively, and Reed seemed to draw in the energy, modulating his own contributions more carefully.
The music touched on free jazz, especially when Krieger let forth some quick runs or hit those intense, dented notes aficionados
refer to as "skronk." He was a fiery presence onstage, often bending over an amp to produce feedback or furiously stomping on his pedals.
The approach mirrored Calhoun's mad scientist act, while Reed, older and wiser perhaps, eschewed such flamboyant moves.
Though Reed's playing could be noisy, there was something essentially relaxed about it. He'd spend time exploring one or two musical
phrases, bending notes or varying their tempo, deconstructing bar chords. Only occasionally did he really sink into the raga-like drones
for which the Velvet Underground was famous.
Once in while, the blues surfaced, and the trio's final chords invoked the majesty of the most high-minded heavy metal. But more than
any one moment, what intrigued was the current of ideas that Reed and his colleagues formed into a rough channel.
It was a rare chance to see Reed at his most spontaneous and introspective. A few audience members walked out early, either driven
to leave by the noise (Calhoun's bowel-shaking keyboards were particularly challenging) or by the realization that they weren't going to
be hearing
"Walk on the Wild Side."
Those who stayed took a different walk than they might have expected, and an interesting one.
~ written by Ann Powers ~
---

BOINC Wiki . . .
Science Status Page . . .