. . . remembering an old friend
Copyright Leonardo Studios Production - Photograph - 'Tobey' - 2008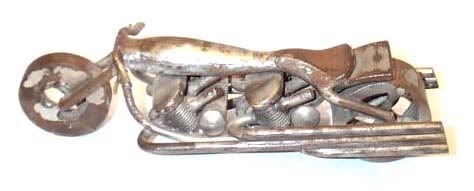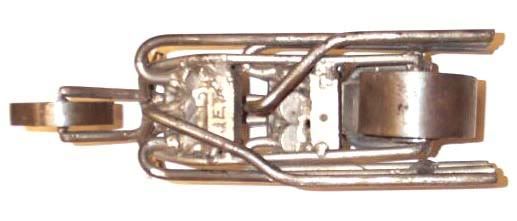 . . . received an e-mail last week and ever since - there has been an extensive
wealth of new information for me to digest . . . this old friend of Tobey's
wrote me and i find it fascinating the way life can turn out . . . the following
quotes are excerpted from this friend of Tobey's - her notes tell a 'Tale of Sorts' :
"Yesterday, a woman with whom I work asked about the sculpture on my desk
- she wondered if my husband had done it as he welds in his job and I
have one of the first things he ever welded also on my desk. I told her
"No, it was done by Tobey" and told her a little about him. She asked
"What is he doing now?" and I said "I don't know" - so she toodled off
and found him via Google."
"I met Tobey 32 years ago when I was 15 and he was a year older - (the
same age as my second son - yikes, we were really young and that was a
long time ago) - he was working as a dishwasher in the Churchill
Restaurant where a gang of us hung out - Tobey and I went out, off and on
again, for about 6 years. We were really intense and volatile and I am
not really sure how we lost track of each other, but we did."
"Last night, I found another little bit about him in your archives and
was struck by your description of him as brilliant and spiritual. We
used to have very deep conversations about ultimate reality and God and
spirit, so I am not surprised that he is still pondering. Of course,
these were the "trying to find meaning" talks you have when you're first
considering this stuff in your teens. I have been going through the
second round now, as we all do, in mid-life. It would be interesting to
hear his thoughts now."
"Tobey was always a phenomenal welder - I remember him silver brazing two
Gillette razor blades together without warping them when he was in grade
11 or 12. The motorcycle is really neat - it is only about 9 inches long
by 2 high and is very detailed - I'll try to get the faculty's digital
camera and send you a shot. (btw - my husband has never met Tobey, but
has heard things about him - the sculpture is technically in my
collection!)"
"The name thing is funny too - in one of our hiatal periods, I met him
with his girlfriend of the day, and was intensely jealous until she
called him "Jeff" and then I knew it was not serious. He also sometimes
used to go by "Jet" when the Elton John song "Bennie and the Jets" was
out. Lots of memories and I am just sitting here with a big smile,
feeling warm inside. I remember him so fondly. Chasing Larry Peconi in
the Corvair down to Fontaine Cycle - wiping out his brother's Mustang in
the parking lot of Stewart - drag racing in the '59 push button
transmission Chryco on George street - getting us into the Long Bar in
the Four Seasons in Toronto even though he had no tie on - challenging
my dad to a fight, then running out of gas on the way home and calling
him for help..... "
- excerpt of an e-mail by Helen Armstrong Kominek [ Faculty Administrative Officer ]
Faculty of Communication and Culture - University of Calgary, CANADA
- - - - -
. . . and now i have to see Tobey and inform him about this and you may see more of
his 'Motorcycle' in the Art Portfolios. What luck for Tobey - What luck for me - that my friends have
provided this Journal so that i may write about these situations . . . NOW - if only some of the Collectors of
My Artworks - that i no longer have records / photos / nor data on - would suddenly discover these pages
and send me pictures so that i could create a more 'comprehensive volume' of my past . . . uhm, i wonder . . .
---

BOINC Wiki . . .
Science Status Page . . .