Happy New Year Fellow Raccoon Fanciers!
Here in the states many Americans start the new calendar year with resolutions to shed extra weight. Back in October Qui-Gon suggested we experiment with Diet Coke Free and this seemed a most fitting "food" for our first raccoon blog of the new year. We couldn't find Diet Coke Free, so we had to use Coca Cola Zero which seemed like the same thing.
The Coca Cola Zero was served chilled and well carbonated. Eric sampled it out of the can. For the raccoons it was served chilled on a paper plate.
Human Trial:
Eric took a tentative sip and snarled "Overly sweet with a nasty after taste." (I had to agree with his assessment.)
Raccoon Trials:
The first visitors of the evening were two relatively new raccoons to our backyard... Big Fluffly Fraidy Raccoon 1 (BFFR-1) and Big Fluffly Fraidy Raccoon 2 (BFFR-2). These two raccoons still fear the hand that feeds them, so Eric and I had to take pictures from within the house. Both raccoons refused the Coca Cola Zero. In fact, both seemed rather frightened by the sound of carbonated bubbles popping in the soda and each time a particularly large bubble popped, they both ran under the deck.
Here is a picture of BFFR-1 giving that noisy plate of Coca Cola Zero a wide berth.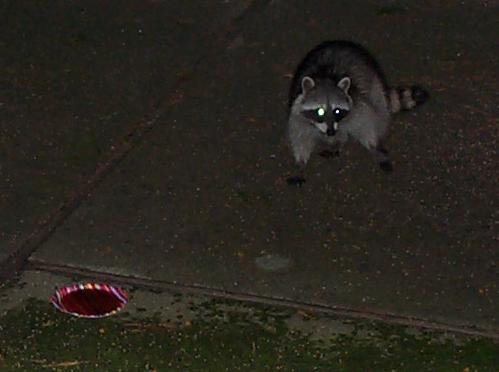 Later on in the evening we were visited by Old Three-sie who is... shall we say... a rather rotund raccoon. We suspect she may be expecting and we WANTED to ask her, but then thought that it would be a little too rude to inquire so directly about such a... uh... delicate matter. It may just be that Old Three-sie is simply packing those extra holiday cookie pounds that some of us put on with regularity each winter.
Anyway, Old Three-sie investigated the plate, but did not sample the Coca Cola Zero. Here is a picture of Old Three-sie complaining that Coca Cola Zero does not give her enough calories to maintain her girlish figure.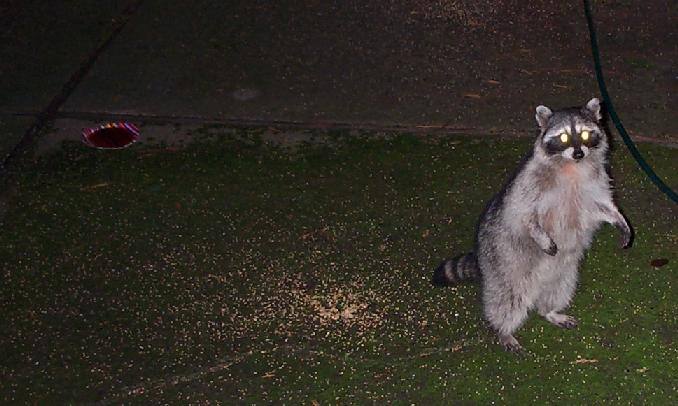 Best wishes to all!
Angela