I know I promised to have text for a letter to your congress critters, but politics have gotten in the way. I've been asked to hold off a little while to discuss the outcome of the meeting of two weeks ago to make sure we hit all the fine points. So anyway I'm not going to mention politics today.
Instead let's talk about an annual occurrence at my house and its relevance to intelligent life in the universe. In May or June these things crawl out from under the deck.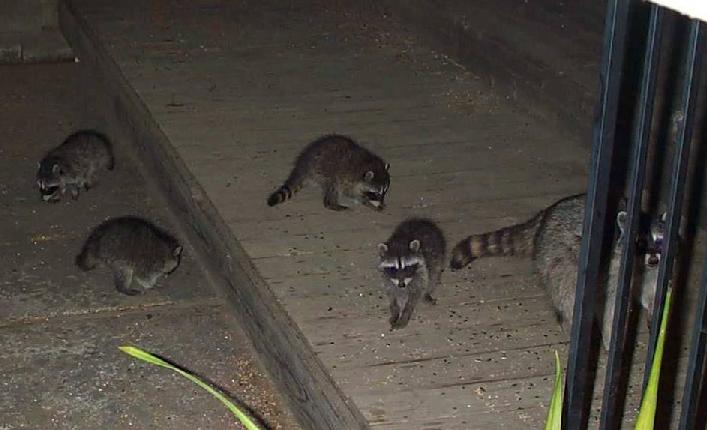 This year it's a female and four babies. For those unfamiliar with North American fauna, these are raccoons (Procyon Lyotor). Thanks to Hermann Göring, they are also quite common to parts of central Europe where they are referred to as Waschbären (which translates as "wash bears" due to their habit of sometimes wetting their food before eating it). I also call them "ring-tailed rats." I think George Lucas probably calls them "Ewoks." (EDIT: Art just wrote to remind me that there is a local animal called a "ringtail" or "ringtail cat" which is a close relative of the raccoon. They are much more stealthy and less likely to congregate in a back yard. Or even be seen.)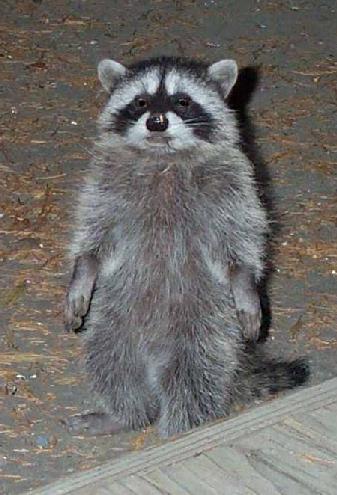 In June, the babies are a bit bigger than my hand when they come out from under the deck for the first time. By this time of year they are on their own. Their mama either departed or became road pizza a couple weeks ago. These pictures were taken in early July.
It's understandable why raccoons like our deck. We've got a wild plum tree that drops plums in June and July, we've got a grape vine that starts being edible (for raccoons) in August. We feed and water a couple of outdoor (feral) cats, so there's cat food. And Angela feeds birds, so when all else fails, there are seeds to eat. So late in spring the biggest, baddest female around sets up shop under the deck. We don't mind too much because she usually kicks out one or two of these: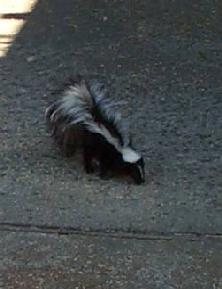 What does this have to do with intelligent life in the universe? Well, these things are too damn smart. They have hands with thumbs that aren't quite opposable, but in a few million years, who knows? They make an excellent laboratory for studying basic intelligence. You should see one open a pickle jar.
Well, I shouldn't say they are too smart. With intelligence (at least here on Earth) most animals seem to be exactly as smart as they need to be and no smarter. Let's call that "Eric's Law." I guess that's not surprising with the way evolution works. If you aren't as smart as you need to be, you're going to die. If you are too smart, well the energy that you body put into a bigger brain could have been put to better use impressing a member of the opposite sex. For most animals there isn't any evolutionary pressure to be smarter.
For an herbivore like a zebra, the evolutionary pressure is to be smart enough to know when to run away. For an obligate carnivore, like a lion, the evolutionary pressure is to be a little bit smarter than the zebra. That will get you close enough that you don't need to be a whole lot faster.
The omnivores and scavengers are the ones that have won the intelligence lotto. They have to calculate how close they can get to that lioness's kill before she'll attack. They have to remember where they found food yesterday or even about the fallen plums they ate last year. They have to remember to tilt their heads backwards when they eat grapes so the juice doesn't run out of their mouths.
It took a long time for creatures to get that smart. Sixty million years ago there was nothing around that was as smart as a raccoon. Six hundred million years ago there was nothing smarter than a jellyfish. And for the few billion years before that, a bacterium was the pinnacle of brain power. Big brains are a recent invention which leads me to believe that they aren't as useful as they seem. For the antelope and the cheetah, getting faster was a better bet than getting smarter.
This, and "Eric's Law" lead me to believe that raccoons won't be getting too much smarter unless there are some drastic changes in the world. Raccoons are too sucessful and too adaptable. They can eat insects, mollusks, crustaceans, reptiles, rodents, amphibians, fruits, nuts and any carrion they come across. The world isn't going to run out of those things any time soon. They occupy much of North America and their close relatives the Crab-Eating Raccoons own Central and South America. They are in the process of overrunning Europe, and will probably extend into Asia and the Middle East within a century or two. Why get smarter when things are good?
So what happened to us to make us smarter? Things didn't go so well for us. We almost lost the evolutionary lotto several times. As a branch on the tree of life the great apes (Hominidae, including humans) have been a dismal failure for most of their existence. Most every great ape species has died out, to the point where there are only seven species left. Compare that to, say, finches (20 genera, with many species per genus). Our closest relatives, chimps, gorillas, and orangutans are distributed in tiny ranges in Africa and Indonesia. They have little or no ability to adapt to changing conditions, which is why their ranges are small.
What makes us different from them? The only explanation I can come up with is that we were backed into an evolutionary corner, from which brains were the only escape. I don't think anyone has figured out what that challenge was yet, but I think its fair to say that we got smart because we were totally incapable of surviving any other way. Like all the great apes, we have been totally disarmed by evolution. We don't have claws or sharp teeth. We don't have thick skin, horns, or armor plate. We can't run fast or climb trees. It's only there where brains become an advantage.
What does this say about ET? Well, I think ET will be similar to us in that their species will have been backed into a similar corner where brains were the only escape. They'll probably be omnivores, because there's no good reason for an herbivore to be smart, and a carnivore only needs to be a little bit smarter than a herbivore. Maybe they'll be like a raccoon that's fallen on hard times and found that brains are the only way through.
---
@SETIEric@qoto.org (Mastodon)