Hey Canadians!
We Got Game!
**********************************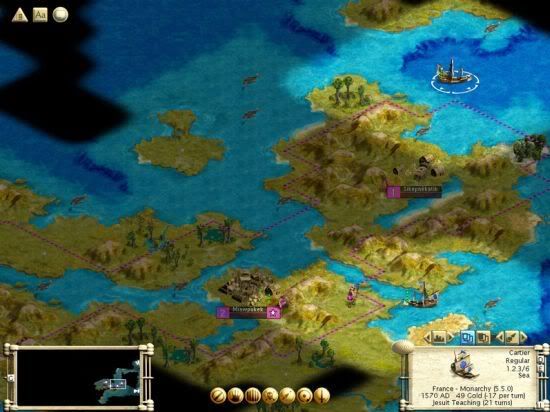 Game gives meaning to 'Riel time' strategy
LAUREN LA ROSE
Canadian Press
June 1, 2007 at 4:04 PM EDT
TORONTO
— They may not yet be old enough to cast a ballot to chose their future leaders, but a new game gives Canadian teenagers the chance to change their past by reliving — and even rewriting — their country's history.
"HistoriCanada," touted as the world's first Canadian history computer game, gives players the power to control one of the country's early European or Aboriginal civilizations, allowing them to decide everything from where to settle and harvest their crops to when to wage war or make peace.
The game, an extension of the top-selling computer game "Sid Meier's Civilization III," is divided into three chapters: the arrival of European explorers, the Confederation of the country and building of the nation and expansion to the West.
"HistoriCanada" includes an in-game version of the "Canadian Encyclopedia," the "Heritage Minutes" video series and links to the game website where players can learn about how events in history actually transpired.
A screen grab of the HistoryCanada video game is shown in this undated handout image. Makers of the game, launched Thursday after more than 10 years in development, are hoping HistoriCanada will appeal to history buffs and gamers alike. (CP)
"We contextualize everything, and we've broken it into chapters so that people don't veer too far off the track while still having lots of room to play," said Nathon Gunn, the game's co-creator and CEO of Bitcasters, the media firm that produced it.
Gamers must strategize how to use the resources they're given, whether it's for military, economic or spiritual investments, which could play a role in reshaping how history plays out, said game co-creator Thomas Axworthy, chair of the Centre for the Study of Democracy at Queen's University in Kingston, Ont.
"For a skilled games person, you have a variety of choices, and as a learning tool, your choices have consequences. That's a very important thing to understand in history," said Axworthy, who served as principal secretary to the late former prime minister Pierre Trudeau.
"The game makes it quite clear it's not predetermined. Individual agency or skill can have a tremendous impact," he added.
"My working title for the game for a long time has been 'What If' because if you play it well, the Five Nations Iroquois Confederacy can win, the Hurons can win, the Mi'kmaq can win, and that's a very important lesson."
Part of the challenge of the game in the project's initial stages was convincing the public that the educational value wouldn't be overshadowed by entertainment, Gunn said.
"In the early days of this project, the large portion of the public sort of saw games as frivolous time-wasting entertainment only with a lot of violence attached to it, and didn't necessarily see the benefits of doing something like this," he said.
"I would say a good portion of the beginning of this project's life was spent convincing people and spreading the word that games could be used for something positive. And of course, the worm has really turned on that now."
Marea Olafson, a history teacher in Eston, Sask., 200 kilometres southwest of Saskatoon, learned about HistoriCanada while attending a national social studies and history conference in Edmonton a year-and-a-half ago and kept in touch with the makers of the game in hopes of being able to test it out on her students.
Her wish became reality, and three of her male Grade 9 students tested "HistoriCanada" throughout the year, as well as her Grade 12 class.
Students who were into gaming but who weren't necessarily as excited about history have shown a keen interest in learning more about history since using the game which allows them to truly call the shots, she said.
"I see this game as such an important part of teaching history because it makes it come alive," she said.
"One thing that I have found that was completely different from this game than I've seen from other games is that the kids are making the decisions ... so it's not like they only have three decisions that they can make, and the game will end the same. It's very exact in the history."
History was Amber Forno's least favourite subject, but since the Grade 8 student started testing the game about a week ago, she's become hooked on both "HistoriCanada" and learning about Canada's past.
"I know my teacher tried to start teaching us about the First Nations and I wasn't quite getting it, and a lot of the textbook stuff, it was boring, I just wasn't finding it interesting," said Forno, 13, at the game's launch in downtown Toronto on Thursday.
"Now I know where the settlers came in, what parts of Canada they settle on, so I'm learning a lot more and I'm finding it fun, and it's interesting for me to do."
Bitcasters is currently seeking a title sponsor to fund the final stage of the project, giving the game away to 100,000 young Canadians.
---