...
Re: wheel cleaning

Never thought of using a POWER toothbrush, but normally use WD40, with a manual toothbrush, and follow with soapy water and finally clean water to rinse. (I don't return the toothbrush to the bathroom after... it doesn't taste good)
Toothbrushes are good at cleaning places that's hard to reach, such as the drains in the shower and in the sinks. Those little holes in the sinks are hard to clean properly, the toothbrush is fine to those too.
I use manually toothbrushes, as I won't use my Braun electrical toothbrush for that.
Three years ago I invested in a
Scumbuster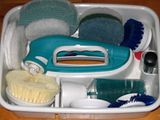 Click the pic
A nifty little thing...
---
[b]"I'm trying to maintain a shred of dignity in this world." - Me[/b]