1) Message boards : Cafe SETI : The Train Thread 2 (Message 1733829)
Posted 15 hours ago by

Bernie Vine

---
OK time for a quick update!!

Starting with this colourful pair at Chesterton today.




Kansas City Southern 4154 and 4143 a pair of SD70 Ace's make a pleasant change from the parade of NS black!!

I know I have said this before but... As as you know I come from the UK where all passenger services are " double ended" that is a cab at both ends and the trains never need to be "turned"

So while I can understand the need to turn a train that has a loco at just one end, I cannot for the life of me think why Amtrak turn a train with a P42 at one end and an NPCU (cabbage) at the other.

Now you could say that the train needs to face in a certain direction, or the P42 need to be at one particular end. Fine except yesterday the Pere Marquette turned on the wye.




Note the very clean 90229 is on the "east" end.

Today it turned again




And 90229 is now facing the other way! Anyone have any ideas why Amtrak are wasting time and money turning a train with a cab at both ends every time??

OK now they say a every picture tells a story.




BNSF 2003 towing P42 #18. It appears that the California Zephyr 6 on Saturday had a problem and 18 was left somewhere in the wilds, the train was towed in by BNSF 5135

Unfortunately it was so late that I gave up and went to bed and didn't get a shot of it!!

A little later 2003 returned (partially obscured) with 5135 in tow




It got very noisy at Chicago today and this slowly crept into view.




Whilst it was difficult to see anything through the dirt and grime, I do believe it was a rail grinder, in fact in this pic you can see the sparks




Finally Amtrak #102 was the P42 involved in the Vermonter derailment last week and from the pictures of it being hauled away still on it's side I doubt I will be seeing it again. It was one of the few P42's I have only seen once, on the 5th of April on The Lake Shore 49


2) Message boards : Number crunching : AVG threat. (Message 1733113)
Posted 4 days ago by

Bernie Vine

---
Just a reminder.

Just because someone perhaps has a different opinion than you, there is absolutely no need to be rude.

Number crunching should be a thread for helping others out

If you cannot be civil please don't post.

Thank you.
3) Message boards : Cafe SETI : The Train Thread 2 (Message 1732830)
Posted 4 days ago by

Bernie Vine

---
Now here is something a little different!!

On my walk this morning I noticed something unusual parked on platform 4 at My local station




Yes it's that time of year again! One of Network Rails leaf cleaning trains

With a Class 73 on this end and something a bit different on the other.

As you can see from this shot, the all stations to Brighton line stretches off in front. The all stations to East Grinstead branches off to the left. So what happens is that the leaf cleaner comes up the Brighton line stops at South Croydon station the crew change ends and as you can see the signal has just changed for the left branch.

I did just manage to get a shot of 73119 "Borough of Eastleigh"




However the much rarer Class 20 on the front was a bit too far away for a clear shot before it moved off.




The unusual feature of the class 20 for a British loco was the single cab. This in fact did cause visibility problems when running "long hood forward" and resulted in the class often being used in pairs.

Whilst there are a few left and this is the fist one I have every seen in service!
4) Message boards : Cafe SETI : The Train Thread 2 (Message 1732334)
Posted 6 days ago by

Bernie Vine

---
Bernie, did you happen to catch Amtrak 6 yesterday? It had 660 behind the power. https://www.youtube.com/watch?v=qu-HkuLX2tA the video includes the Amtrak engineer calling a foreman for permission through his limits. It will give you an idea of American procedures.

Yes I did




As to the radio, most of the Railstream cameras include the local scanner feed, however I have found that whilst I can mostly hear what is being said I don't really understand much of it.

Sometimes the accents and interference make it impossible to follow the conversations! As to the video I had assumed that the train number was a routing number but seems it is the the loco number as 195 was in the lead. So at least that is something I have learnt.

PS whilst typing this I had the Chicago camera on and once again I have head a very loud siren, I keep meaning to ask what they are, I assume some sort of test, but what for?
5) Message boards : Cafe SETI : The Train Thread 2 (Message 1732161)
Posted 7 days ago by

Bernie Vine

---
So the American Association of Private Railroad Car Owners special train The Spirit of St Louis has finally completed it's round trip and returned to Chicago today.

Twenty private cars and a heritage P42 .

Take me too long to separate all the cars into individual pictures, so here is the video of it arriving at Chicago courtesy of Railstream..

https://youtu.be/lK8h_dj0czE
6) Message boards : Cafe SETI : The Train Thread 2 (Message 1732114)
Posted 7 days ago by

Bernie Vine

---
An overhead view of the Vermonter derailment.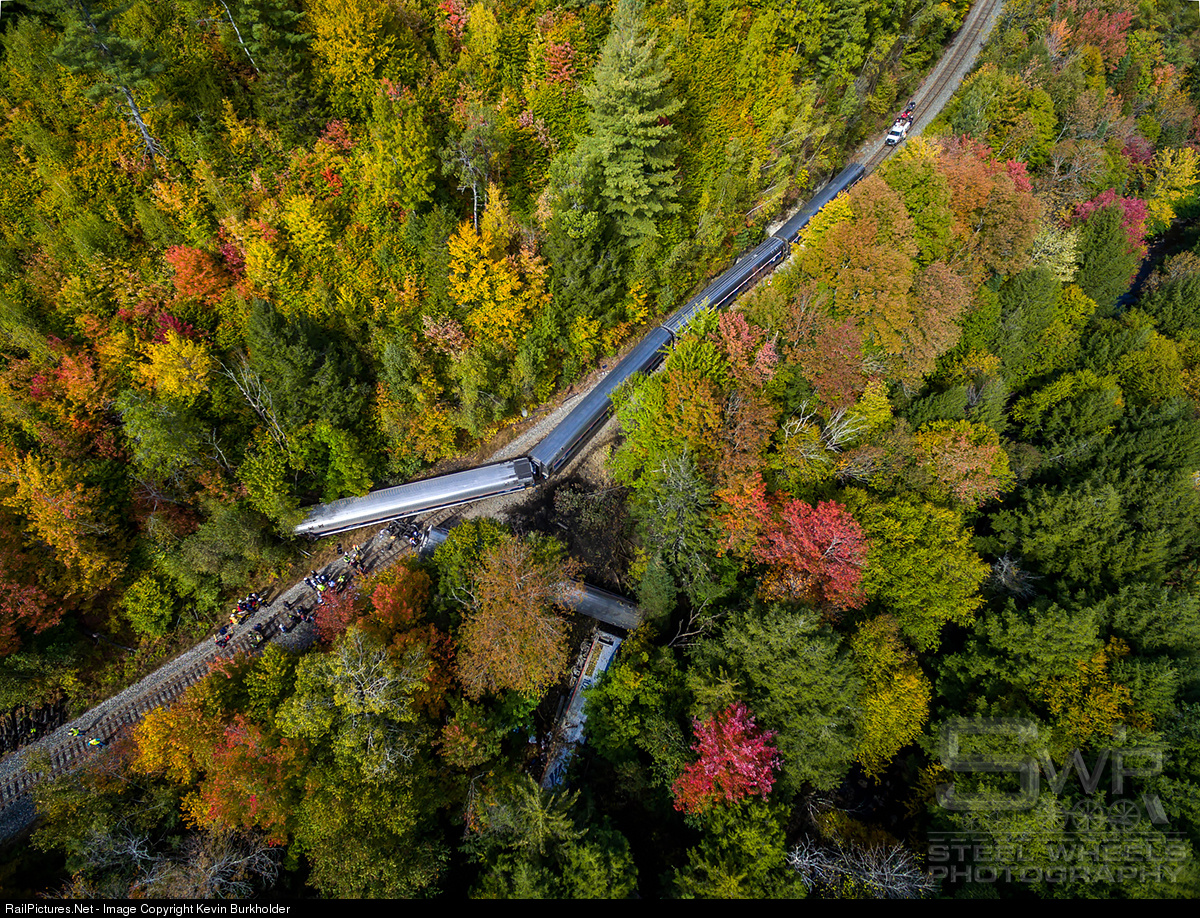 Loco 102 and the first car derailed to the left and the following car to the right.
7) Message boards : Cafe SETI : Word Link # 84 (Message 1731483)
Posted 9 days ago by

Bernie Vine

---
Song
8) Message boards : Cafe SETI : The Train Thread 2 (Message 1731247)
Posted 10 days ago by

Bernie Vine

---
3 extra Viewliner baggage cars on their way out from the Hialeah Amtrak shops and ready to go into service.
Apparently, the seemingly slow rollout of the Viewliner bags is because the train crews and station agents have to be trained on them.


So that could be why an extra new baggage car has been appearing now and then on the 29

This was Sunday




This was yesterday




Drip feeding them to Chicago.

Also 3 P42's on that one!!
9) Questions and Answers : Web site : Broken images across the website (Message 1731196)
Posted 10 days ago by

Bernie Vine

---
Hello there,

This being my first post, wanted to make a contribution and maybe suggestion in the same time. I tried to find some wallpapers across the forums and saw multiple broken links and pictures not showing up. Some example of links with broken images:

http://setiathome.berkeley.edu/forum_thread.php?id=51132#848812
http://setiathome.berkeley.edu/forum_thread.php?id=55225#929133
http://setiathome.berkeley.edu/forum_thread.php?id=54958

A cool thing that I haven't seen would be a report button to tackle this kind of links.

You are aware those posts are 6 years old and most likely they have been removed by the posters themselves.

SETI@home has no control over the links posted by users.
10) Message boards : Number crunching : Windows 10 - Yea or Nay? (Message 1730680)
Posted 11 days ago by

Bernie Vine

---
I'm still using Windows 10 on my daily driver and I've not had my computer reboot itself ever. I've manually restarted it after software installs, but it has never rebooted on its own.

Yes same here
11) Message boards : Cafe SETI : The Train Thread 2 (Message 1730578)
Posted 12 days ago by

Bernie Vine

---
So you don't see an Amtrak F40PH for ages then two come along on the same day. :D

Tuesday I had noted that 406 was spotted on the 29, and sure enough:




Behind 167 and 170 there it was. Of course these day where 406 goes the exhibition train seems to follow.




So that's 3 engines (well 2 and a half) 5 exhibition cars, then the normal 8 for the 29!

Then between the heavy rain that covered the camera for a while this appeared at CHI




Cabbage 90200 being one end of the Pere Marquette with #129 being on the other, still haven't worked out the reason for turning a train that has a cab at both ends!!

Also got a nice shot of 63 on the outgoing 391 passing 59 with the incoming 58, while Metra is busy below!!




Then when 59 reversed into the station it was paced by an incoming Metra that allowed this shot.




Which is much more effective in the video:

https://youtu.be/AJvmAQMSvTk

Now I know I posted about these earlier in the year but I have a bit more info now also a bit on 3313 as well

Yesterday at sunny Chesterton:




Now 3313 was rebuilt a few years ago. Here in the Juniata shops in 2012: (pic from RRpictures)




Looks a bit better now!! :)

And of course pulling the NS Geometry Train consisting of NS 34




Which has quite a history. (from a post at Train orders.com)


The track geometry slug, NS 34, originally started off its life as Norfolk and Western SD35 No. 1530, delivered in 8/65. It was demolished in a wreck at Lynchburg, VA in in 5/76 when it hit a standing ballast train at track speed. It was rebuilt by the N&W Roanoke Shops and outshopped as N&W RP-E6 (Remote Power - EMD 6-axle) road slug No. 9921. This unit and sister 9920 (rebuilt from a wrecked Erie Lackawanna SDP45) were each mated between a pair of SD45 masters. The 9921 was renumbered to N&W 9951 in 5/81.

Following the N&W and Southern Railway merger in 1982, the slug became NS (N&W) 9951. It was retired and placed into storage in 10/89 and then leased to the Wheeling & Lake Erie Railway in 5/90. It was returned from the W&LE in 9/92 and once again retired and placed into storage.

In 7/94, the NS Roanoke Shops began work on the 9951 to convert it for track geometry operations. Work on the unit took place over a period of five years when things were slow in the shops and it was finally released as NS 34 in 7/99. The slug carbody had been rebuilt with taller areas at each end, the fuel tank had been shortened, the traction motors had been removed with track measuring devices added to one truck, and a generator had been installed in the carbody to power the measuring equipment. The unit was painted in NS tuscan red and lettered in dulux gold.



With NS 33 behind.


NS 33
This car has a rich heritage beside being a unique research car. Built by Pullman-Standard in 1950 as UP Coach 5441, 44 seat coach car, it was eventually sold to the Alaskan RR in 1971.Subsequently it was retired 1987 and sold to St Louis Car. NS then purchased in 1994 and had its Roanoke shops rebuld to serve as part of a track research combo. It was placed into service 8/9/99


Also 406 and the exhibition train along with Amtrak 145 left on the 5 yesterday apparently bound for Denver. However a slow moving METX 9 with a single bi-level got in the way!!




Having had to manipulate the video a bit to get that shot I wondered if you could almost believe 406 could move on it's own!!




:-)
12) Message boards : Number crunching : Panic Mode On (100) Server Problems? (Message 1730408)
Posted 12 days ago by

Bernie Vine

---
Having just re-connected a machine with an empty cache, the downloads are proceeding at pre-colo speeds, around 7 or 8 Kbps.
13) Message boards : Cafe SETI : Word Link # 84 (Message 1730280)
Posted 13 days ago by

Bernie Vine

---
excel
14) Message boards : Cafe SETI : The Train Thread 2 (Message 1729599)
Posted 15 days ago by

Bernie Vine

---
I think it is a ballast tamper. It lifts a section of rails and ties, compacts the ballast underneath, and then repositions the section.


Yes I think you could be right as it, and something I couldn't quite see, were working on the passing track right in the corner of the camera view. If they reappear close I will try and get a few shots.

Here are a few "odd" items that I have seen over the last few days, mostly "Metra"

METX 3 the SW1200 switcher is a common sight on the MH Tower cam, less so is METX 4 the SW1500.

So this was quite an interesting shot.




Appears to be ballast, perhaps for the work going on just out of sight.

Metra do a lot of switching of their F40PH's during the day

However I have only twice seen them 7up.




All 7 had to clear the switch where the guy is standing before then reversing up track 2

Also noticed these appearing on some of the cab cars




So there is obviously still a "car vs train" problem

As I said yesterday there is always some "hi-rail" activity, especially at weekends. This came down the Metra track going forwards, then reversed back up the main.




A bit of good luck is that the AAPRCO convention train the "Spirit of St. Louis" has Amtrak Heritage unit 156 leading with 154 behind. This means it will be tracked on the Heritage Units website, so I should have a better idea if and when it is heading to Chicago!! It has already been spotted today at Valparaiso, Ossian and Muncie Indiana.
15) Message boards : Cafe SETI : The Train Thread 2 (Message 1729255)
Posted 16 days ago by

Bernie Vine

---
I see a hirail on the airline too.

Yep, there are so many of them in all shapes and sizes I don't notice them anymore!!

They seem to be doing a lot of work on the tracks here. Hi-rails and men in yellow hat and vests wandering everywhere.

Which reminds me, I wonder what this does? Came past yesterday and again today.




Seems it might be to do with ballast, but can't be sure.
16) Message boards : Number crunching : Running out of ideas (Message 1729182)
Posted 16 days ago by

Bernie Vine

---
As some may have noticed my GPU died last week.
So i bought a new one.
All i got was checking Signal.
So i thougt either the PSU and or mobo died also.
First i replaced the PSU, no change.
Today i replaced the mobo, and wtf i still get the s same error.
Any help is much appreciated.

Well logic suggests that you still have something connected that has been there all along, so memory, have you changed that.

Also I once had a bad USB drive that stopped the machine booting.

Other than that I cannot think of anything.
17) Message boards : Cafe SETI : The Train Thread 2 (Message 1729163)
Posted 16 days ago by

Bernie Vine

---
2105, hmm, that's going to be a while.

Nice pics Bernie.

Ooops!!

Thanks, dogey finger work corrected.

I will add this as I have just witnessed it. There has been some discussion as to the length of freight trains in the US and Canada and I think this just about sums it up.




NS 5648 (rebuilt GP38-2) and NS 3067 (ex Conrail CR3399 GP40-2) haul what must be the er.. shortest freight I have seen!! Not often there are more locos than wagons!!

Also something only related to trains because it is on camera.

Every Saturday Chesterton hold some sort of market, and the place fills up with cars everywhere, I noticed a couple of weeks ago this nice old truck turns up, today I remembered to get a screen shot.




Finally I lost this pic yesterday having saved it in the wrong place, but an old friend dropped by the Chicago cam yesterday.




Yep CNW 8646 this time not with 8701 but UP 4009
18) Message boards : Cafe SETI : Raccoon Update XXII - All Are Welcome In The Critter Cafe (Message 1729134)
Posted 16 days ago by

Bernie Vine

---
Some of you may know I live in Croydon. South London, famous in the 60's and 70's as a souless town full of tall buildings.




Then in 2011 famous for the iconic image of the riots.




The 144 year old Reeves furniture store in flames.

So it is not surprising that Croydon is not exactly famous for its wildlife, and especially not deer.

So it was something of a shock yesterday when on my daily walk in my local park I was approached by a parkeeper who warned me there was a large red deer in the park.




Now this park is bounded on the west by the deep cutting for the London Brighton railway line, on the east by large houses with high fences and north and south by busy main roads.

So how did it get here.

There are no know red deer within 20 miles.




Well it now appears that it was spotted on the railway embankment and someone from the railway security opened a gate in the fence and let it into the park. So it possibly walked along the railway!! Seeing as we have all 3rd rail here it is a wonder it was not electrocuted!!

The park has now been closed as it is quite a large animal and if spooked could possibly cause damage with those antlers.

So the question is now what to do?

It cannot stay there, however to transport it anywhere it would have to be darted, but the rules a regulations about using a dart gun in a public place (the park) are long and tortuous, the shooter has to be properly certified, there has to be a vet and certified nurse present and the dart cannot be fired if there is any chance of a miss resulting in the dart being lost!! And of course no public within range.

It made the local news.

Stag on the loose

And later the London news

Evening Standard

The other problem is of course sightseers who despite warnings on all the gates are getting in and trying to get close up pictures. All of mine were taken from a long way off.


19) Message boards : Cafe SETI : The Train Thread 2 (Message 1729122)
Posted 16 days ago by

Bernie Vine

---
Certainly seems like 4601 need a bit of TLC :-)

Well after having nearly finished this post yesterday complete with pictures and info and for no good reason closing my browser!! This will possibly be a bit shorter!! And created in Word so I don't lose it again!

Well I recently complained about Heritage Units sending me an e-mail about a sighting at Chesterton long after the event, well yesterday it was a reversal of roles. I got an e-mail to tell me Amtrak 156 was 0 miles from Chesterton, which I of course knew as it was my spot they were e-mailing me about!!



So the parade of Private Varnish continues.The Lake Shore Ltd (29) on Thursday had these two




The Milwaukee Road – "Wisconsin" and one other I was unable to identify.

The California Zephyr (6) did indeed bring three PV's




The Canadian National - Burrard




The Central Pacific – Promontory Point




And another I could not identify.

Then yesterday the 49 brought two more.




That was the best shot I could get because unusually they were removed from the consist before it was turned on the wye.

Then yesterday the 6 brought two more.




The Pacific Sands




And the fittingly named American Railway Explorer – Kansas

Finally not to be left out the Southwest Chief (4) also brought one.




Which again I could not identify.

The reason for all this PV activity is American Association of Private Railroad Car Owners or AAPRCO for short is holding its 2015 convention.

Early tomorrow a large number of PV's will set off on the convention train hauled by two or more Amtrak locos from Chicago, they will travel to Cincinnati, Louisville and finally to St Louis.

The whole train will return to Chicago on Monday the 5th October and if the route stays as planned it should pass the Chicago camera. That would be a sight!!
20) Message boards : Cafe SETI : The Train Thread 2 (Message 1728565)
Posted 18 days ago by

Bernie Vine

---
I haven't uploaded (or even looked at) my pictures yet, but here are someone else's great shots from Saturday. One of them has me in it.

And here is a beautiful video shot from a drone out at Seeman Road. There are a lot of other videos on Youtube, too.


What impressed me was the amount of equipment you have there actually working, it must cost a bit to keep it all going!!


I have had a couple of days away visiting my dad, and been totally without the internet!!

So I am now getting my fix of the cams again!

Just before I went I did manage to catch the arrival of ACS64 #657




However #658 came whilst I was away.

Today Amtrak 49 is just getting later and later currently over 4 hours, so whilst waiting I have seen a couple of interesting loco's passing Chesterton.

First was NS8098 C40-9W Conrail Heritage unit.




Then a very interesting consist

After a tatty NS lead loco and a slightly better BNSF one came this




The white marking says PRLX or Progress rail 8122 an SD60M. Progress rail seem to be an off shoot of Caterpillar and EMD.

This was followed by




NS 5301 Which seems to have been an eco test unit at one time, note the large white notice on the front. It hasn't been re classed and is still a GP38-2

Then NS 8502 (also with the notice)




Which if you look up says it is a C36-7, which this is not, a little further digging reveals this was originally NS 8311 and is now a C40-8.5W rebuilt and renumbered.

And finally




NS 4704 was GP 50 7020 now a GP33ECO, it say the conversion was only completed this month also on the NS roster it says

"Units 4700-4704 funded with federal and state grants and will be assigned to use in the Chicago, IL area."

So looks like it was a delivery from Altoona works to Chicago.

Nice train :-)